Hiwi-Jobs
Job opportunities for student assistants at a glance:
Studentische Hilfskraft (HiWi) (w/m/d) am Institut für Nanotechnologie im Bereich Chemie
Entry from the 29.11.2023
Position number 115982
Job vacancy to be filled from: 01.02.2024Description
Wir suchen für das Institut für Nanotechnologie im Bereich Chemie zum 1. Februar 2024 befristet für 6 Monate, 10 Stunden/Woche eine/einen Werkstudent/in.
Ihre Aufgaben
Um größeren Umfang: Herstellung von Zintl-Phasen und Legierungen,
Synthese von Zintl-Clustern und Reaktionen von Zintl-Verbindungen mit d-
und f-Block-Komplexen. Darstellung intermetalloider Cluster und
Katalysatoren im Projekt ERC BiCMat.Im kleineren Umfang: Hilfestellungen beim Bezug des Neubaus und der
Einrichtung der dortigen Labore.
Ihre Qualifikation
Sie verfügen über:
• ein Bachelor in Chemie
• deutsche und englische Sprachkenntnisse
• Kenntnisse im Bereich der Synthese unter Schutzgasbedingungen.
Job type/category
Field of study preferred

Natural sciences and Technology
Chemistry
Favored career stage
Location/region

Karlsruhe city, Karlsruhe region
Sector
Industry branch
Language at workplace
Type of company
Contact
Mr. Bastian Weinert
Institut für Nanotechnologie
Hermann-von-Helmholtz-Platz 1 76344 Eggenstein-Leopoldshafen
76344 Karlsruhe
Germany
Tel: +4972160828771
E-Mail: Please log in to read the stated e-mail address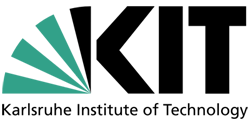 Company address
Institut für Nanotechnologie
Hermann-von-Helmholtz-Platz 1 76344 Eggenstein-Leopoldshafen
76344 Karlsruhe
Germany
Telefon: +4972160828771

Top Jobs
Karlsruhe city, Karlsruhe region

Marvell Semiconductor Germany GmbH

Karlsruhe city, Karlsruhe region

Bayern

Baden-Württemberg

Baden-Württemberg

Karlsruhe city, Karlsruhe region

Marvell Semiconductor Germany GmbH

Karlsruhe city, Karlsruhe region

Baden-Württemberg

Germany

Karlsruhe city, Karlsruhe region

Karlsruhe city, Karlsruhe region

Baden-Württemberg

Baden-Württemberg

Marvell Semiconductor Germany GmbH

Karlsruhe city, Karlsruhe region

Baden-Württemberg

Bayern

Baden-Württemberg

Baden-Württemberg

Baden-Württemberg

Marvell Semiconductor Germany GmbH

Karlsruhe city, Karlsruhe region

Baden-Württemberg

Baden-Württemberg

Karlsruhe city, Karlsruhe region

Karlsruhe city, Karlsruhe region

Baden-Württemberg

Karlsruhe city, Karlsruhe region

Albtal-Verkehrs-Gesellschaft mbH

Baden-Württemberg

Baden-Württemberg

Germany

Nationale Forschungsdateninfrastruktur (NFDI) e.V.

Karlsruhe city, Karlsruhe region

Germany